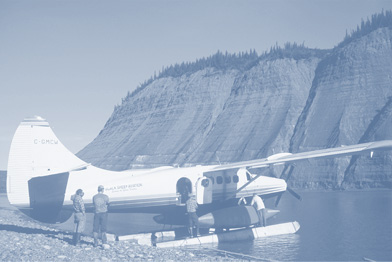 Black Sheep Aviation is a full service aviation charter company based in Whitehorse, Yukon with satellite bases in Mayo and Watson Lake, also operating in NWT and Northern BC.
Profile and services
The Black Sheep fleet consists of a Turbine Otter, Cessna Caravan, de Havilland Beaver and Cessna 185. The Otter and Caravan are both powered with 900hp Garrett engines. The Otter, Caravan, Beaver and Cessna 185 are licensed to carry external loads. We offer year-round service as all of our aircraft operate on floats, wheels or wheel/skis as required.
Black Sheep flies for a variety of user groups in the Yukon:
Canoeists, Kayakers, Rafters & Hikers
Hunting & Fishing
Mining & Exploration
Camp support, Drill moves & Fuel Hauls
Our Mayo base allows us ready access to the Peel River watershed: home of the Wind, Snake, Bonnet Plume and Hart rivers. Canoeists, kayakers and rafters are dropped off at the headwaters with most groups picked up at Taco Bar on the Peel River.
The Hess, Stewart and Mountain rivers are also accessed through Mayo. We service the Southern rivers through Ross River and Whitehorse.
For all of your bush flying requirements, please contact us at the information above.